Animal Protection for Species Conservation | YAQU PACHA has been active as a species conservation organization in South America, or Latin America, since 1992 to save endangered aquatic mammal species from extinction.
But YAQU PACHA is also active in animal protection, such as rescuing stranded La Plata dolphins. These are mostly juveniles and dolphin calves that we find on the beaches as part of the beach inspections of our partners - such as CRAM-FURG in Brazil, Karumbé in Uruguay or Fundación Mundo Marino in Argentina.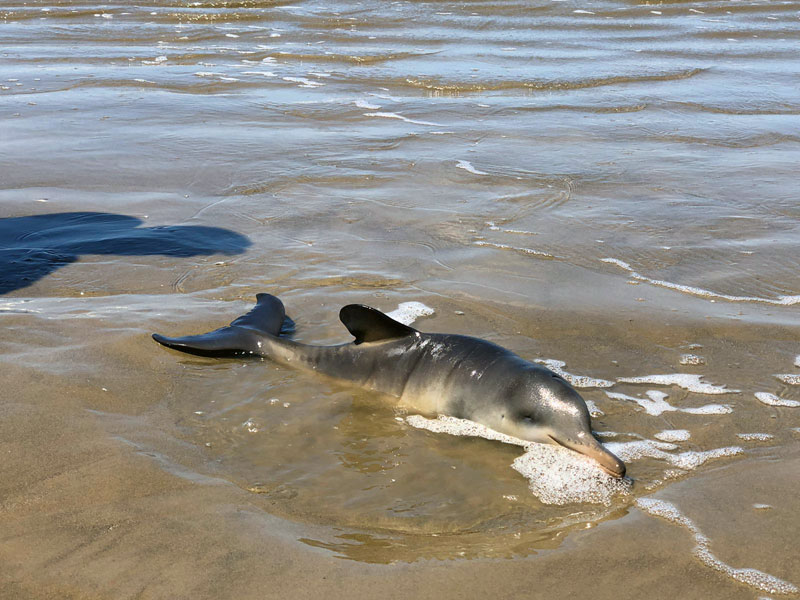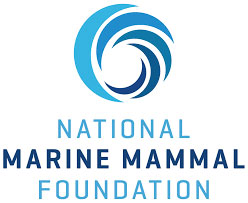 In this context, YAQU PACHA is working with the National Marine Mammal Foundation (USA) and local organizations to develop a coordinated, step-by-step action plan for the conservation of the La Plata Dolphin - Franciscana - Toninha. As a first step, the strategy aims to unify existing rescue and rehabilitation efforts in animal conservation in South America and improve neonatal survival rates. For this purpose, local veterinarians will be equipped with the knowledge and tools with the aim of improving the survival rates of the animals.
This animal protection project will serve as a guide for future conservation efforts for other small dolphins and porpoises facing similar threats.
Procedure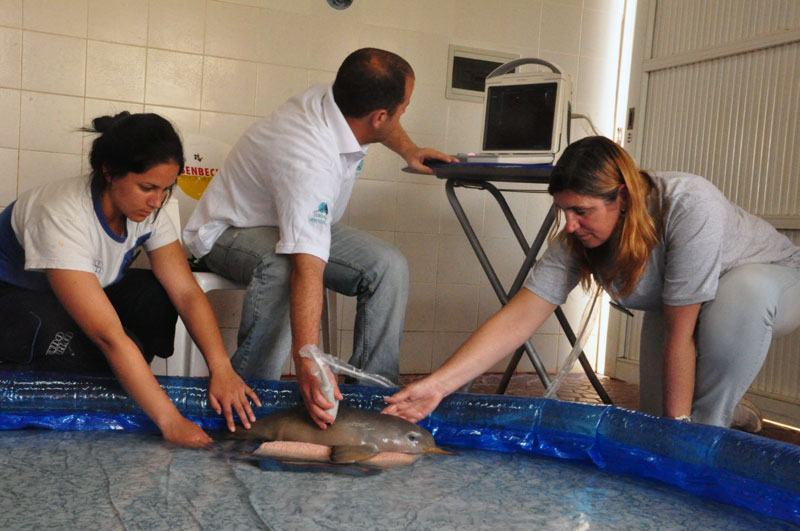 In the event of a live stranding, the animals are transported in special boxes as quickly as possible to the nearest rehabilitation center for medical care and examination. At the center, initial examinations take place and first aid is provided. The animals are cared for there in special water basins equipped with high quality filtration systems, which is crucial for the survival of the La Plata dolphins.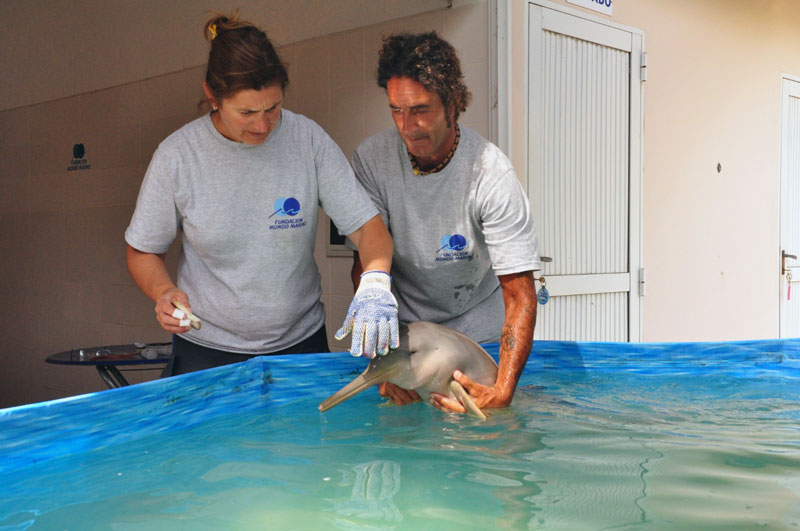 The goal of YAQU PACHA is to provide the best possible care for the animals by providing all the necessary equipment, such as tanks and filter systems, transport boxes, milk, medications and more.
Here you can help us with your targeted animal protection donations and support us.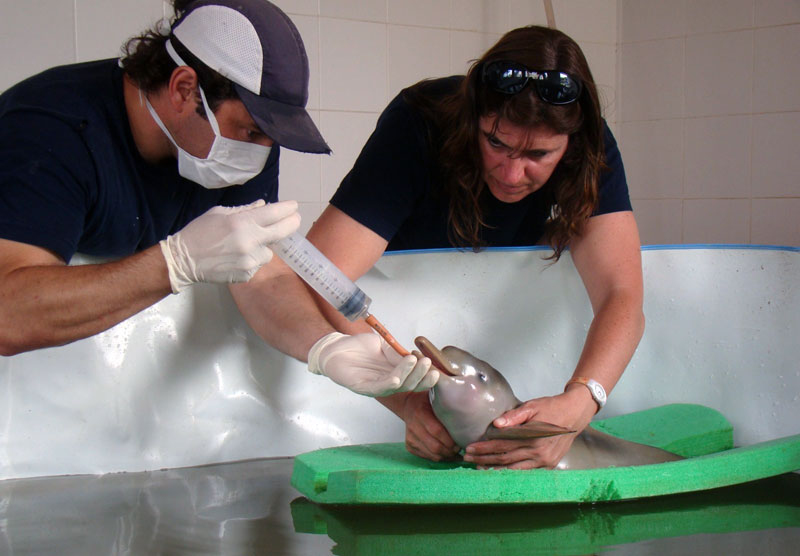 The rescued dolphins are monitored around the clock, receive medication if necessary and are provided with special rearing milk at regular intervals. In the case of the small cetaceans, a very special milk is required, which is produced exclusively in the USA as dry milk.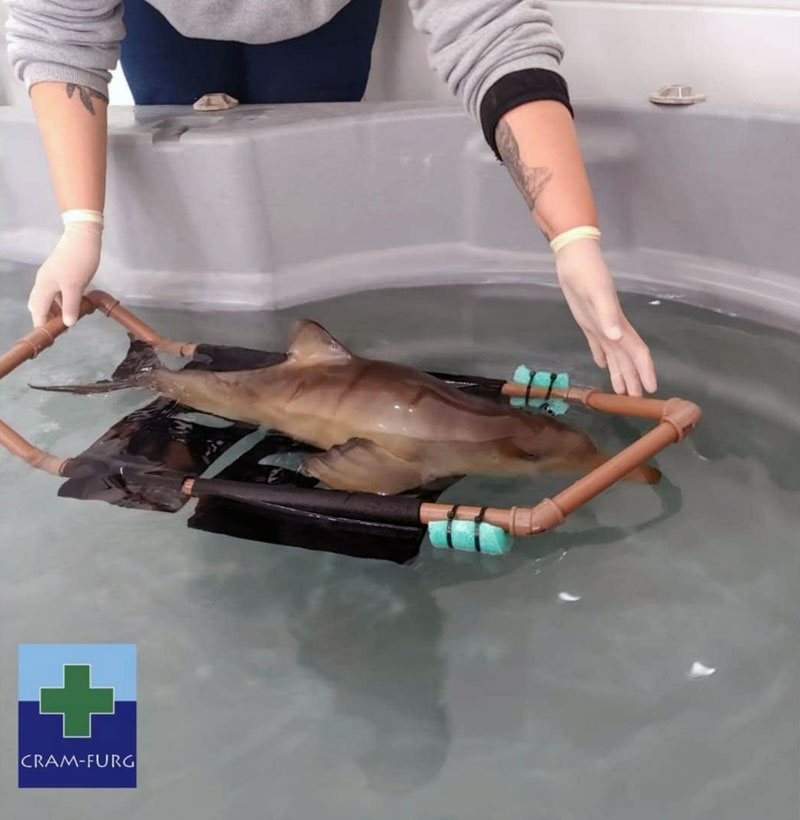 It is known that this product has been used to successfully hand-rear and rehabilitate several newborn small cetaceans in many countries. These products are not currently available in South America. The milk substitutes available locally there contain ingredients such as soy and excessive carbohydrates that the animals cannot digest, which is why they cannot tolerate the products.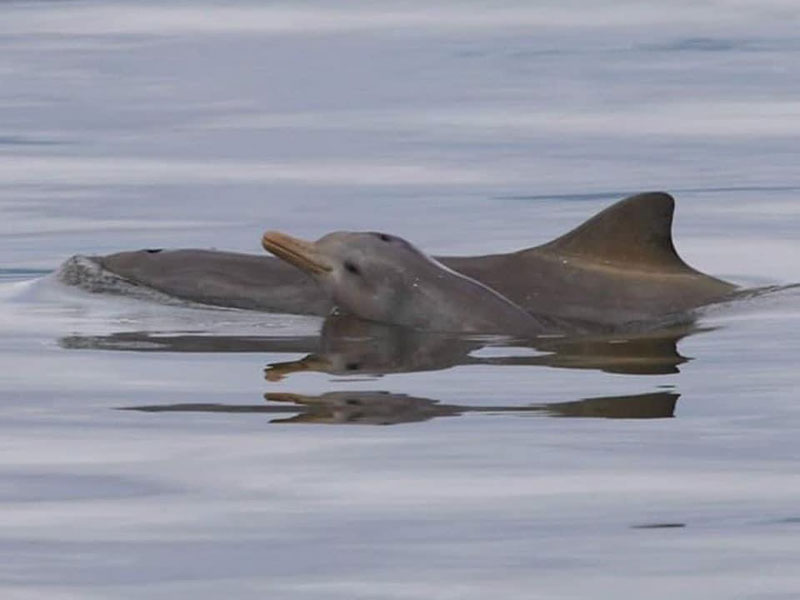 Rehabilitated neonates are certainly the most challenging for first responders because the initial stages of rehabilitation are complicated and because these animals rarely have contact with conspecifics and must become accustomed to human care. Despite these difficulties, the ultimate goal in animal protection for these rehabilitated animals should be life in a natural or semi-natural habitat.
This work in animal protection is not only important to save individual dolphins, but helps us to better understand these animals and improve our work in animal protection, but also in species conservation.
Please support us in this very important project animal protection for the protection of species with your donations
---
Alliance for Franciscana-Dolphin Conservation Research, Rescue and Rehabilitation (AFC3R).

The Alliance for Franciscana Dolphin Conservation Research, Rescue and Rehabilitation (AFC3R) was formed in 2019 following the ESOCC Franciscana WorkShop in Argentina and in response to the high number of live strandings of La Plata dolphins(Pontoporia blainvillei) in South America. In the last 20 years, this number exceeded 133 animals, although these numbers refer to only a small part of the total range.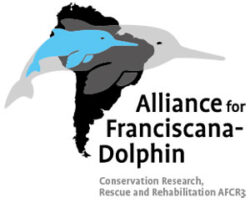 Because of its preference for nearshore waters, this species is particularly vulnerable to anthropogenic impacts, especially incidental mortality, especially in gillnet fisheries. Although exact numbers of Franciscana bycatch for the entire range are not yet known, the high annual mortality rates calculated for some areas suggest that bycatch levels are unsustainable. Because the La Plata dolphin is threatened with extinction in some regions, it is classified as "endangered" by the IUCN worldwide. At the regional level, such as Brazil, it is classified as critically endangered.
The alliance includes more than 27 professionals, including veterinarians, biologists and rehabilitation specialists, all of whom have many years of experience working with small cetaceans. The participants of this alliance come from Brazil, Uruguay, Argentina, the USA and Germany and represent different institutions.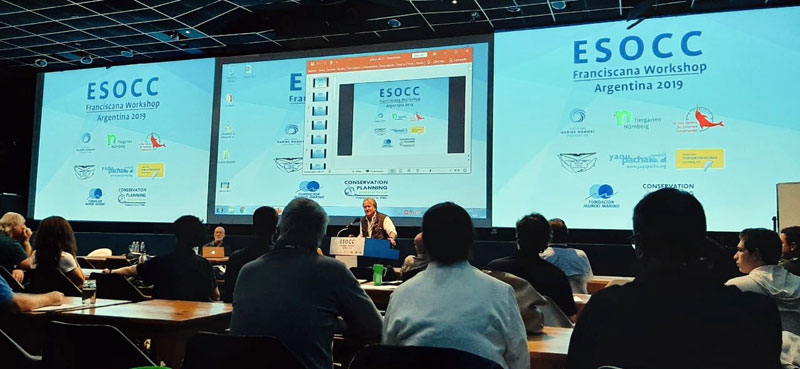 The main goal of the group is to develop rehabilitation protocols for stranded La Plata dolphins that follow strict scientific criteria but are also based on management knowledge. All South American colleagues have worked for years in rehabilitation centers in their home countries and have a wide range of expertise in this field. The development of the protocols was a gradual, collaborative process that drew on local and species-specific expertise as well as expertise gained from working with other small cetaceans. The first protocols were partially applied during the 2020 stranding season, when three stranded La Plata dolphins were found in Argentina and Brazil. This practical application during protocol development not only helped test the protocol for applicability, but also helped improve it. Protocol development also included standardizing data collection for live and dead animals so that data gaps could be filled by each stranded animal. In developing the protocols, it also became clear that it is not enough to define the different stages of rehabilitation, but that it is also immensely important to specify the material requirements that are ultimately necessary for successful work. Therefore, another task of the Alliance is to ensure that the rehabilitation centers in South America are equipped with the necessary materials/medicines when it comes to dolphin welfare.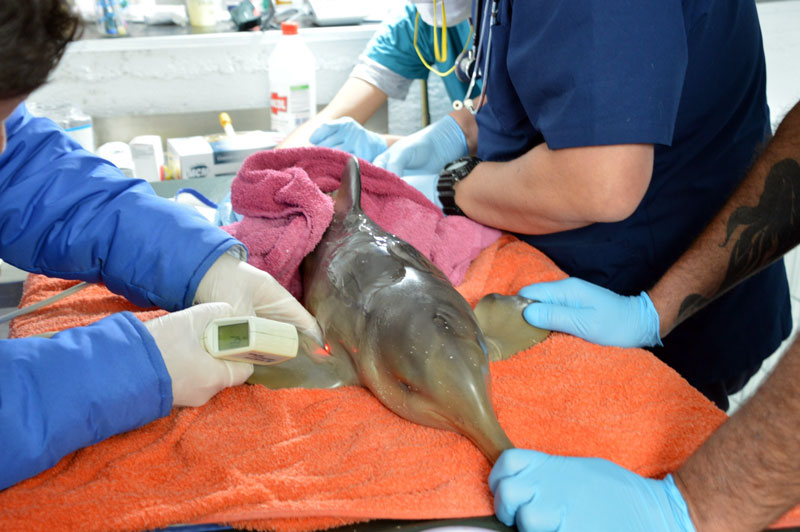 In the future, these protocols will serve as "living documents" that will be updated regularly as lessons are learned from each rehabilitation effort. In addition, the protocols will also serve as a model for future conservation efforts for other dolphin species around the world facing similar issues.
Ultimately, the alliance wants to raise awareness for the protection of this endangered dolphin species through its activities.
Alliance members:
YAQU PACHA e.V., Germany
Nuremberg Zoo, Germany
National Marine Mammal Foundation, USA (NMMF)
Dolphin Quest, USA
Fundación Mundo Marino, Argentina
Mundo Marino, Argentina
Aquarium, Argentina
Aqua Marina, Argentina
Karumbé, Uruguay
Yaqu Pacha Uruguay, Uruguay
Centro de Recuperação de Animais Marinhos (CRAM-FURG), Brazil
AIUKA, Brazil
Associação R3 Animal, Brazil
Univ. of São Paulo, Brazil
---
Our Partners | La Plata Dolphin Project | La Plata Dolphin | Species YAQU PACHA is working to protect | Flight Counts - Aerial Survey - Your Donation Counts | Species Protection | Sea Otter | Project Vaquita | Support us