4. internationales Symposium über Forschung & Artenschutz in Latein- & Nordamerika
Samstag, 20. Juni bis Sonntag, 21. Juni 2020
Ort: Tiergarten Nürnberg, Am Tiergarten 30, 90480 Nürnberg
---
With the symposium ISFAS 2020 we want to highlight high-ranking research and conservation projects, from leaf cutting ants to aquatic mammals. Different experts were invited in order to share with us their results and their vision about wildlife conservation. The Symposium will cover different topics from behavioural studies, to the use of different tools within In Situ / Ex Situ Animal Management, conservation research strategies of endangered species and finally the socio-economic value of biodiversity. ISFAS 2020 is certainly a good opportunity for students and professionals interested in wildlife conservation to learn about methods and strategies currently used to understand and protect endangered species.
On behave of Zoo Nuremberg and the Organization for the Conservation of Latin American Aquatic Mammals – YAQU PACHA e.V. we want to invite you to participate at this unique meeting.
---
WISSENSCHAFTLICHES PROGRAMM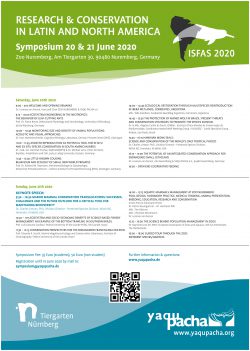 Saturday, June 20th 2020
9:00 – 9:15
WELCOME and OPENING REMARKS
Dr. Lorenzo von Fersen
Host and Chair ZOO NUREMBERG & YAQU PACHA e.V.
9:15 – 10:00
Ecosystem engineering in the Neotropics: the behavior of leaf-cutting ants
Prof. Dr. Flavio Roces
Behavioural Physiology and Sociobiology, University of Würzburg, 97074 Würzburg, Germany
10:00 – 10:45
Monitoring Size and Density of Animal Populations: Acoustic and Visual Approaches
Dr. Kurt Hammerschmidt
Cognitive Ethology Laboratory, German Primate Center (DPZ), D-37077 Göttingen, Germany
10:45 – 11:00
COFFEE BREAK
11:00 – 11:45
Assisted reproduction as potential tool for in situ and ex situ species conservation in South American birds
Dr. med. vet. Dominik Fischer, DipECZM(WPH) & Dr. Michael Lierz, Clinic for Birds, Reptiles, Amphibians and Fish, Justus Liebig University Giessen, Germany
11:45 – 12:30
Little-known cousins: behaviour and ecology of small New World primates
Prof. Dr. Eckhard W. Heymann
Verhaltensökologie & Soziobiologie, Deutsches Primatenzentrum – Leibniz-Institut für Primatenforschung (DPZ), Göttingen, Germany
12:30 – 14:00
LUNCH
14:00 – 14:45
Ecological restoration through multispecies reintroduction in Iberá Wetlands, Corrientes, Argentina
MSc. Talía Zamboni
Fundación Rewilding Argentina, Corrientes, Argentina
14:45 – 15:30
The protection of Maned Wolf in Brazil: present threats and conservation strategies to promote the species survival
Dr. & MSc. Rogério Cunha de Paula
ICMBio – Instituto Chico Mendes de Conservação da Biodiversidade, Coordinator Maned Wolf Working Group / IUCN/SSC – Canid Specialist Group, Atibaia, Sao Paulo, Brazil
15:30 – 15:45
COFFEE BREAK
15:45 – 16:15
Hawaiian monk seals: Science and conservation of the world's only tropical phocid
Dr. Charles Littnan, PhD.
Division Director – Protected Species Division, NOAA IRC, Honolulu, HI 96818, USA
16:15 – 17:00
The potential of an Integrated Conservation Approach for Endangered Small Cetaceans
Dr. Lorenzo von Fersen
Zoo Nuremberg & YAQU PACHA e. V., 90480 Nuremberg, Germany
19:00 – OPEN END
COOPERATIVE FEEDING
---
Sunday, June 21th 2020
9:30 – 10:30
Marine Mammal Conservation Translocations: Successes, challenges and the future outlook for a critical tool for maintaining biodiversity
Dr. Charles Littnan, PhD.
Division Director – Protected Species Division, NOAA IRC, Honolulu, HI 96818, USA
10:30 – 11:15
Ecosystem and socio-economic benefits of science-based fishery management: an example of the bottom trawling in southern Brazil
Prof. Luís Gustavo Cardoso
Federal University of Rio Grande-FURG, Rio Grande, Brazil
11:15 – 11:30
COFFEE BREAK
11:30 – 12:15
Conservation perspectives for the Endangered Franciscana dolphin
Prof. Eduardo R. Secchi
Marine Megafauna Ecology and Conservation Laboratory, Institute of Oceanography, Federal University of Rio Grande, Brazil
12:15 – 14:00
LUNCH
14:00 – 15:15
Aquatic Mammals management at Zoo Nuremberg: pool design, husbandry practice, medical training, animal presentation, breeding, education, research and conservation
Armin Fritz & Christiane Thiere
Dr. Katrin Baumgartner – Dr. Hermann Will
MSc. Tim Hüttner
MSc. Christian Dienemann
Dr. Lorenzo von Fersen
15:15 – 16:00
The science behind population management in zoos
Dr. Raymond van der Meer
European Association of Zoos and Aquaria, 1018 CZ Amsterdam, The Netherlands
16:00 – 18:00
GUIDED TOUR THROUGH THE ZOO: Different species/habitats
18.00
END OF THE SYMPOSIUM
---
> Download des Programms zum Symposium ISFAS 2020 als PDF (ab 11. März)
---
ANMELDUNG
Jede*r Teilnehmer*in erhält eine Bestätigung, die als Vorlage für den Erwerb von Credit Points an der Universität eingereicht werden kann. Eine Anerkennung durch das jeweilige Prüfungsamt kann nicht gewährleistet werden.
Sprache des Symposiums ist Englisch (nur die Führungen und Gespräche mit Pflegern, Biologen und Techniker sind auf deutsch).
Anmeldung bitte per Email an: 
symposium@yaqupacha.de

Anmeldegebühr (Eintritt in den Tiergarten mit inbegriffen): 
Studierende 35 Euro, Nicht-Studierende 50 Euro
Anmeldeschluss: 
10. Juni 2020
Ort: 
Tiergarten Nürnberg, Am Tiergarten 30, 90480 Nürnberg
Wir bitten alle Interessenten die Gebühr auf folgendes Konto zu überweisen:
Sparkasse Nürnberg
Kontoinhaber: YAQU PACHA e.V.
IBAN: DE91760501010001141638
BIC: SSKNDE77XXX
Verwendungszweck: ISFAS 2020
Sobald das Geld auf dem Konto eingegangen ist, erhalten Sie eine Bestätigung per E-Mail.
---
ÜBERNACHTUNGSMÖGLICHKEITEN
Der Tiergarten Nürnberg bietet für die Nächte von Freitag bis Sonntag eine einzigartige Übernachtungsmöglichkeit (in Anmeldungsgebühr enthalten) für max. 50 Studenten im Blauen Salon der neuen Delphinlagune.
Interessierte schicken zur Platzreservierung bitte eine E-Mail an:
symposium@yaqupacha.de
Verteilung nach Eingang der Anmeldung. Übernachtungs-Kandidaten bringen einen Schlafsack und Isomatte mit. Sanitäre Anlagen (WC und Waschbecken, keine Dusche) und Verpflegungsmöglichkeiten (auf eigene Kosten) stehen zur Verfügung.
Weitere Übernachtungsmöglichkeiten:
Hotel Continental (4,4 km)
Luitpoldstraße 14-16, 90402 Nürnberg
Five Reasons Hostel (4,7 km)
Frauentormauer 42, 90402 Nürnberg
City Hostel Nürnberg (5,5 km)
Klaragasse 12, 90402 Nürnberg
Hostel Nürnberg (6,8 km)
Ottostraße 6, 90402 Nürnberg
A1 Hostel an der Messe (6,5 km)
Neuselsbrunn 26, 90471 Nürnberg
Hotel Metropol Nürnberg (10,9)
Fürtherstraße 338, 90429 Nürnberg
---
ORGANISATION
YAQU PACHA e.V. (Dr. Lorenzo von Fersen, Sandra Honigs & Tim Hüttner)
Tiergarten Nürnberg (Dr. Dag Encke)