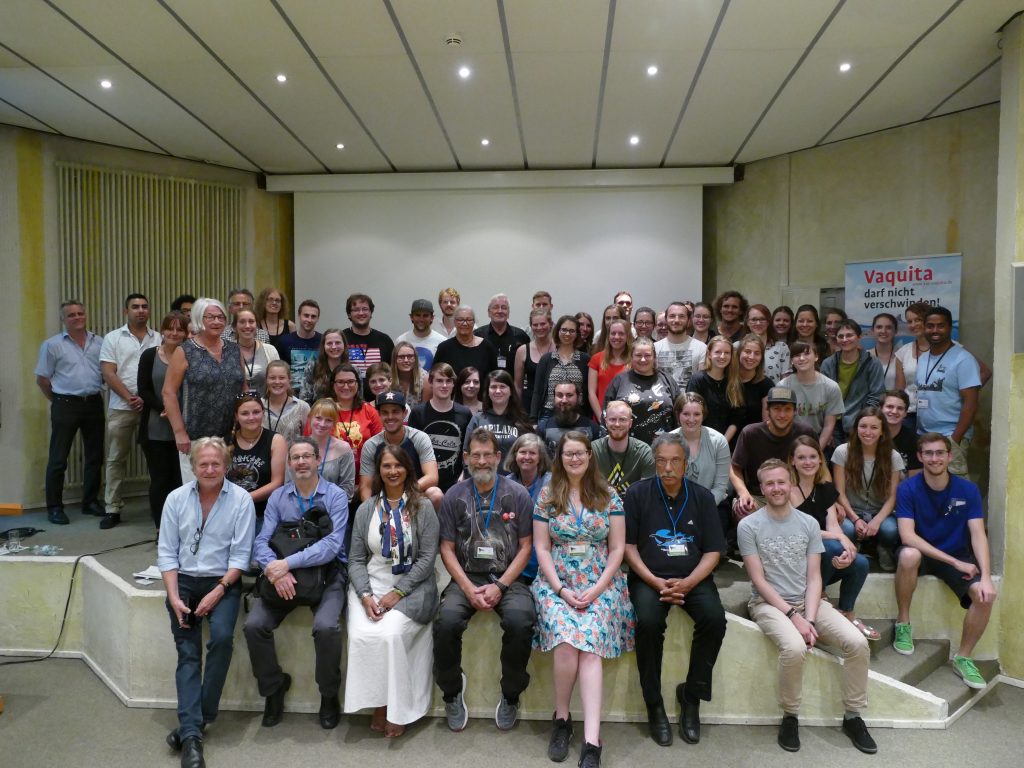 Vom 16. bis 17. Juni 2018 fand im Tiergarten Nürnberg zum 3. Mal das Internationale Symposium über Forschung & Artenschutz in Südamerika (ISFAS) statt. Über 80 Teilnehmer lauschten gebannt den Beiträgen der internationalen Redner aus Brasilien, Großbritannien, Kanada, Schweden und Deutschland. Das abwechslungsreiche Programm beleuchtete die Biologie und die Methoden der Datenerfassung und des Artenschutzes rund um verschiedene südamerikanische Tierarten, sowohl zu Land, als auch im Wasser.
Obwohl sich die meisten Beiträge um Tierarten drehten, für deren Erhalt und Schutz sich die veranstaltende Organisation YAQU PACHA e.V. direkt einsetzt, gab es auch Beiträge zu Primaten, Amphibien und natürlich zu grundlegenden Fragen rund um den Artenschutz.
So berichtete Dr. Karl-Heinz Jungfer (Universität Koblenz-Landau) über die Anpassungen von Fröschen an sog. Phytotelmata (Kleinstgewässer in z.B. Astlöchern), Dr. Sara Papworth (Royal Holloway University London) referierte zuerst über die Problematik der veränderbaren Normwerte (Shifting Baselines) in der Wahrnehmung von Umweltveränderungen und anschließend über die Jagd auf Affen im Amazonas und die Verhaltensanpassungen verschiedenen Affenarten auf die Präsenz von Jägern bzw. Touristen. Dr. Mats Amundin (Zoo Kolmarden, Schweden) präsentierte Ergebnisse seiner Arbeit zur Nutzung neuer Technologien zur Forschung und zum Schutz von Delfinen.
Am zweiten Tag erzählte Dr. Miriam Marmontel (Institut Mamirauá, Brasilien) über die Bemühungen zum Schutz und der Erforschung des Amazonas-Flussdelfins, dem Amazonas-Manati und des Riesenotters.
Als Letztes präsentiere Prof. Eduardo Secchi (Universität Rio Grande, Brasilien), der bereits bei jedem ISFAS-Symposium dabei war, über die Bedeutung von Langzeitstudien für den Schutz von Meeressäugetieren und über aktuelle Situation von Großen Tümmlern und des La Plata-Delfins in Brasilien.
Die interessierten Teilnehmer des Symposiums, zusammengesetzt aus Studierenden der Biologie, Naturwissenschaftlern, Privatpersonen, Zoomitarbeitern und Biologen, nutzten die Gelegenheit den Referenten Fragen zu stellen und in einen regen Austausch zu treten. So gingen die Diskussionen auch in den Pausen und während der abendlichen Zusammenkünfte weiter, stets den Artenschutz im Fokus und das Interesse an den verschiedenen Methoden und Problemen z.B. in Bezug auf die Bestandsaufnahme aquatischer Säugetiere war groß.
Neben den spannenden Vorträgen gab es im alten Delfinarium des Tiergartens, das direkt der Lagune angegliedert ist, auch eine praktische Demonstration zur Bioakustik und zu aktuellen Forschungen hierzu. So erläuterte Tim Hüttner interessante Details zu seiner Forschungsarbeit mit dem Titel "Sensory adaptations in the dolphin Tursiops truncatus.". Dr. Mats Amundin zeigte anschaulich die wie man die Echoortungslaute von Delfinen für den Schutz und z.B. Populationsstudien nutzen kann.
Hier wurde erneut ganz deutlich, wie wichtig die Grundlagenforschung u.a. im Zoologischen Garten für das Verständnis über eine Tierart und letztlich für einen effektiven Schutz dieser Art und ggf. ihres ganzen Biotopes ist.
Der Höhepunkt des ISFAS-Wochenendes war der Keynote-Vortrag des preisgekrönten Meeresbiologen Prof. Daniel Pauly (University of British Columbia, Vancouver, Kanada) über den Einfluss der Überfischung auf die Fischpopulationen Meere und das "Shifting-Baseline-Syndrome". Dies bezeichnet die Verschiebung in der Wahrnehmung von Umweltveränderungen durch den Menschen und in der Fischereiindustrie die nicht bekannten Daten aus vergangenen Zeiten ("Baselines") und damit die nicht hinreichende Bewertung von Veränderungen der Fischpopulationen in der Gegenwart.
Das 3. ISFAS war wieder ein voller Erfolg, hat es doch erneut unterschiedliche Menschen zum Wissensaustausch zusammengeführt und in der angenehmen Atmosphäre des Tiergarten Nürnberg dafür gesorgt, dass auch die nächste Generation Artenschützer und Naturforscher sich mit Begeisterung für den Schutz der Natur einsetzt und auch jene, die bereits engagiert ihr Bestes geben, weiterhin motiviert dem Artenschutz treu bleiben.
Der Vorstand von YAQU PACHA e.V. bedankt sich ganz herzlich bei den vielen helfenden Händen, die eine solche Veranstaltung erst ermöglichen. Hier möchten wir insbesondere Sandra Dollhäupl, Tim Hüttner, Monika Prell, Henning Plückebaum, Helga und Peter Noventa, dem Team der Lagune des Tiergarten Nürnberg, dem Verein der Tiergartenfreunde Nürnberg e.V. sowie Dr. Dag Encke herzlich danken.